Font piracy is a serious issue in our industry and we are working hard to combat it. It is very frustrating and creates victims on many levels. This article outlines information about font piracy, types of font pirates, and examples of how to combat font piracy for your foundry!
What is font piracy?
Fonts are software and must be licensed for proper use. When people share copies of fonts online with others that don't have the rights to use the fonts, they're engaging in what is commonly known as font piracy.
Piracy can take myriad forms, ranging from unintended piracy, such as an unsecured website directory exposing font software to the public, to more blatant types of piracy such as reselling pirated IP or knowingly distributing commercial fonts on free font websites. Caught in the middle are a wide variety of type enthusiasts and customers who may not understand the impact that sharing font software has on the type community.
Piracy types
There are four major types of font piracy: Free Font Websites, Font Sharing Forums, File Sharing Blogs, and Exploiters/Resellers.
1️⃣ Free Font Websites
These are websites that are self-hosting infringing IP. Some of these sites are intentionally infringing for traffic, while some allow user submissions and do not always know they are infringing.
2️⃣ Font-Sharing Forums
Online forums can be where users share new fonts, or make specific font requests to be filled by other users. This is a major source of piracy for new releases.
Let's take a deeper look at vk.com. It is a large social media website based in Russia and home to several graphic design and font communities. Members of these communities often knowingly share fonts with one another, and they may believe that this sharing is justified and fair. One user writes, "If I use a font for commercial purposes, I would expect to buy a licence to use any font that requires such a licence for commercial use. Many people here are designers, who regard VK as a shop window and would never consider using a font without buying a license to do so. We are not a bunch of rogues and vagabonds." The problem with a public forum is that while the user base may not consider themselves to be "rogues and vagabonds," eventually real rogues and vagabonds find and exploit these communities. Fonts appearing on VK will, days later, pop up on file-sharing blogs.
3️⃣ File-Sharing Blogs
These websites typically offer a variety of graphic design resources, such as fonts, vectors, stock images, and plug-ins. Files are typically not hosted directly on the blog itself; instead, the blog contains links to third-party premium file locker services hosting the pirated IP.
These file-sharing blogs showcase the font and provide links to file locker websites, such as zippyshare.com and nitroflare.com, where the font is hosted and can be downloaded. End users must pay a fee to access the file locker content, and the pirate who posted the font to the file locker website is in turn financially rewarded when the end user pays to download it. The result of this incentivization scheme is that any publicly shared font, regardless of the intentions of the user choosing to share it, can quickly wind up on several different websites, each linking to several different file lockers.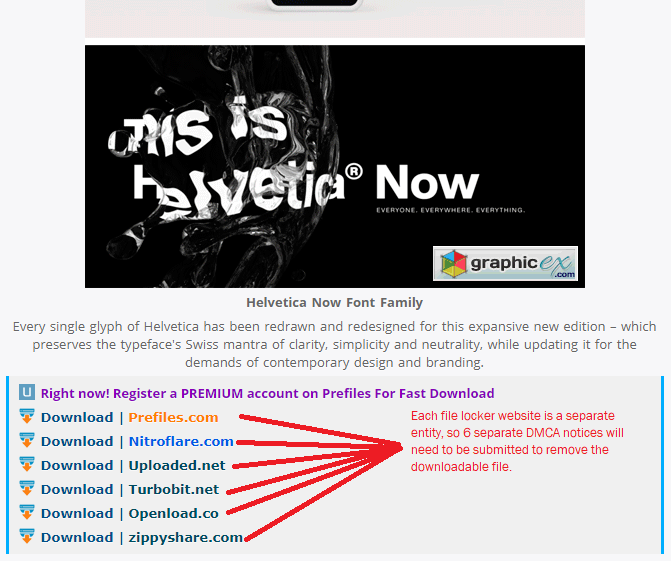 4️⃣ Exploiters/Resellers
These are websites that scrape web font previews and resell the scraped web fonts to users at a fee.
5️⃣ Other
BitTorrent:

Torrent files available for download through peers

Usenet:

A network where users can post information freely, which is then downloaded and shared

Open Server:

Unsecured website file directories

Github:

One of the largest accidental forums for font piracy. Read more about it and how to prevent it here:

https://pixelambacht.nl/2017/github-font-piracy/
Can Monotype pursue font piracy on my behalf?
Unfortunately no, as Monotype is a third-party distributor and is not the IP owner of your fonts nor has the power of attorney needed to pursue on your behalf. MyFonts.com is a platform that connects foundries to customers. The good news is that it's relatively easy to send a Digital Millennium Copyright Act (DMCA) notice or cease-and-desist letter to font pirates. We've outlined how to do so below!
How can I combat font piracy?
So what can you do when you see your font available for illicit download from a pirate website? If possible, contact the pirate directly and notify them of the issue. Not all pirates are ill-intentioned, and many will readily remove infringing content when brought to their attention. That said, there certainly are bad actors who will not willingly remove infringing content.
One common method that Monotype employs for their fonts is the issuance of DMCA takedown demands. Another option to combat piracy is to send a cease-and-desist letter to the owner of the infringing website. When in doubt, contact a lawyer.
What is the DMCA?
The DMCA is the U.S. Digital Millennium Copyright Act, which provides a mechanism for copyright owners to give notice of copyright infringement to certain service providers and website operators (among others) and requires that such service providers and website operators take steps to correct the infringement. A DMCA notice requires that the submitter provide some basic information about the issue, including a description of the content that is being infringed, an authorized example of the work, and a URL where the infringing content can be located. An example of what an actual DMCA notice might look like is provided at the end of this article.
An example of tackling a free font website pirating fonts
Monotype reviewed a free font website and found several of its commercial fonts available for free download. We reached out directly to the website owner, but we received no response and the font software remained available for download. Monotype's legal team then sent a formal DMCA notice to the website.
Monotype's DMCA notice was ignored. As a next step, Monotype sought to forward the DMCA notice to the website's internet service provider (ISP). ISPs typically comply with DMCA notices, as failure to do so could mean violating the safe harbor provision of the DMCA and result in their being liable for the infringing activity taking place on their servers. Looking up the website's hosting provider revealed that the website uses CloudFlare as a content delivery system. CloudFlare is an intermediary, pass-through network that acts as a gatekeeper of sorts, shielding the identity of the ISP. After submitting a DMCA notice to CloudFlare via its online form, CloudFlare responded with the contact information for the website's ISP, and Monotype was able to forward its DMCA notice to them.
Unfortunately, not all ISPs will comply with a DMCA takedown request. Other actions that can be taken to combat piracy include sending a cease-and-desist notice to the website owner or submitting a Copyright Removal request to Google to remove pirated font download links from Google's Search index. Google's Search algorithm takes DMCA requests into consideration, so a takedown request has the added effect of generally reducing the infringing site's ranking in Google search results.

Example of content removed from Google due to a DMCA request. This text appears at the bottom of a Google search results page for a link that has been removed from Google's search results.
Contact information for various file locker sites
Hosting Service

Contact

24uploading

report abuse button on download page

2shared

email to info@archive.org

dmca@alfafile.net

info@anonfiles.com

dmca@bigfile.to

box

Bytewhale

cufonfonts.com

The site uses CloudFlare's pass through network, and complaints can be submitted at https://www.cloudflare.com/abuse/ where they are then forwarded to the website owner and the web host.

datafilehost

abuse@datafilehost.com

DepFile

depositfiles

Faststore

dmca@faststore.org

filenext

abuse@filenext.com

file-space

fontke.com

They have a copyright notice takedown procedure outlined here: https://en.fontke.com/copyright/

Email: copyright@fontke.com

Free My Fonts

Font software is hosted through Mega.nz. Submit a copyright notice here: https://mega.nz/copyright

fshare

Flag the link

gfxfile

Flag the link

abuse@junocloud.me

LittleByte

admin@littlebyte.net

Maisfonts.com

mediafire

abuse@mediafire.com

Nekaka

email to abuse@nekaka.com

Nitroflare

https://www.nitroflare.com/ATT?do=login


support@NitroFlare.com

abuse@novafile.com

oboom

prefiles

email to dmca@prefiles.com

dean@puush.me

rapidgator

email to abuse@rapidgator.net

rockfile

Sendspace

turbobit

tusfiles

dmca@tusfiles.net

abuse@upload.cd

dmca-agent@uploadable.ch

uploaded

dmca@uploadfiles.io

uploadgig

abuse@uploadgig.com

uploadrocket

dmca@UploadRocket.net

dmca@uplod.it

userscloud

userscloud.copyright@gmail.com

Submit a Copyright Infringement link at the bottom of the page

zippyshare

http://www.support.zippyshare.com/index.php?act=tickets&code=open; alternatively, abuse@zippyshare.com

filescdn

Copyright.Filescdn@gmail.com

workupload

abuse@workupload.com
Example DMCA Notice (17 U.S.C. §512(c)(3))
Identification of the work or material that you claim has been infringed.
The infringed material is software for generating the digital outlines, in various weights, for the Helvetica Now typeface.
An authorized example of this work can be found here:
https://www.myfonts.com/fonts/mti/helvetica-now
Identification of the material that is claimed to be infringing.
http://www.totallyfreefonts.com/helvetica-now
Contact information, including your name, address, telephone number, and email address.
Name
Address
Telephone #
Email
A statement by you that you have a good faith belief that the disputed use is not authorized by the copyright owner, its agent or law.
I have a good faith belief that the disputed content is not authorized by the copyright owner, its agent, or the law.
A statement by you that the above information in your Notice is accurate and that, under penalty of perjury, you are the copyright owner or authorized to act on the copyright owner's behalf.
The information in this notice is accurate and, under penalty of perjury, I am authorized to act on the copyright owner's behalf.
A physical or electronic signature of the owner of the copyright that has been allegedly infringed or a person authorized to act on behalf of the owner.
Electronic Signature: Your Name
Helpful links
You can find out any information about who owns a site by using a resource like Whois: https://whois.icann.org/en
DMCA
https://www.law.cornell.edu/uscode/text/17/512