Script fonts, in general, refer to any font that has connecting letters and originate from cursive, calligraphy, or handwriting. Some script fonts look casual and handmade, with lots of scribbles and texture. Some are more formal, based in different styles of calligraphy. Others are more trendy, originating in lettering, with smooth curves, high contrast, bouncing baselines, and more. Even still, some scripts are more digital and stylized, for example monoline scripts.
When we review fonts, we don't judge the style of script font. We love all styles of script fonts! We are primarily focused on ensuring key technical aspects of script fonts are correct and work properly, which we will cover in this article. When important aspects of script fonts don't work, then the font is not going to be appealing to customers or competitive in the marketplace, and we won't accept it. We unfortunately have to reject script fonts frequently, often for simple and fixable issues.
The script font category is the most competitive font category today. In recent years, we have seen a flood of cheaply priced script fonts hit the market, providing a wealth of choices to customers and increasing competition for foundries in this category. Script fonts used to be incredibly time-consuming to produce, however new technology has made it much easier to create OpenType features, alternates, ligatures, swashes, and all the other complex features which are essential to making a convincing script typeface. Despite the technological innovations, script fonts are still no easy feat and are a time-consuming process to get right. With care, thoughtfulness, and patience, you too can create script fonts that will be appealing to customers and have a chance to become a retail success.
Letter connections
This is the #1 most important aspect of script fonts. The hallmark of a script font is that the letters connect, so if the letters don't connect in a way that makes sense or looks natural, then it's not going to be desirable for customers. When looking at a script font, you should imagine someone writing it with a pen. How would a human connect those letters? That's how your digital version should also work. Here are a few examples of the most common connection issues:
The lowercase r
The lowercase r is notoriously hard to connect with other letters. Often, the connection point between the r and the other letters don't line up properly, or overlap causing a lump, or don't have the same angles where they connect. A tip - make the lowercase r start at the bottom of the baseline, rather than in the middle, or make alternates or ligatures for use in different scenarios when you can't get two letters to line up just right.
Some examples of the lowercase r not connecting properly.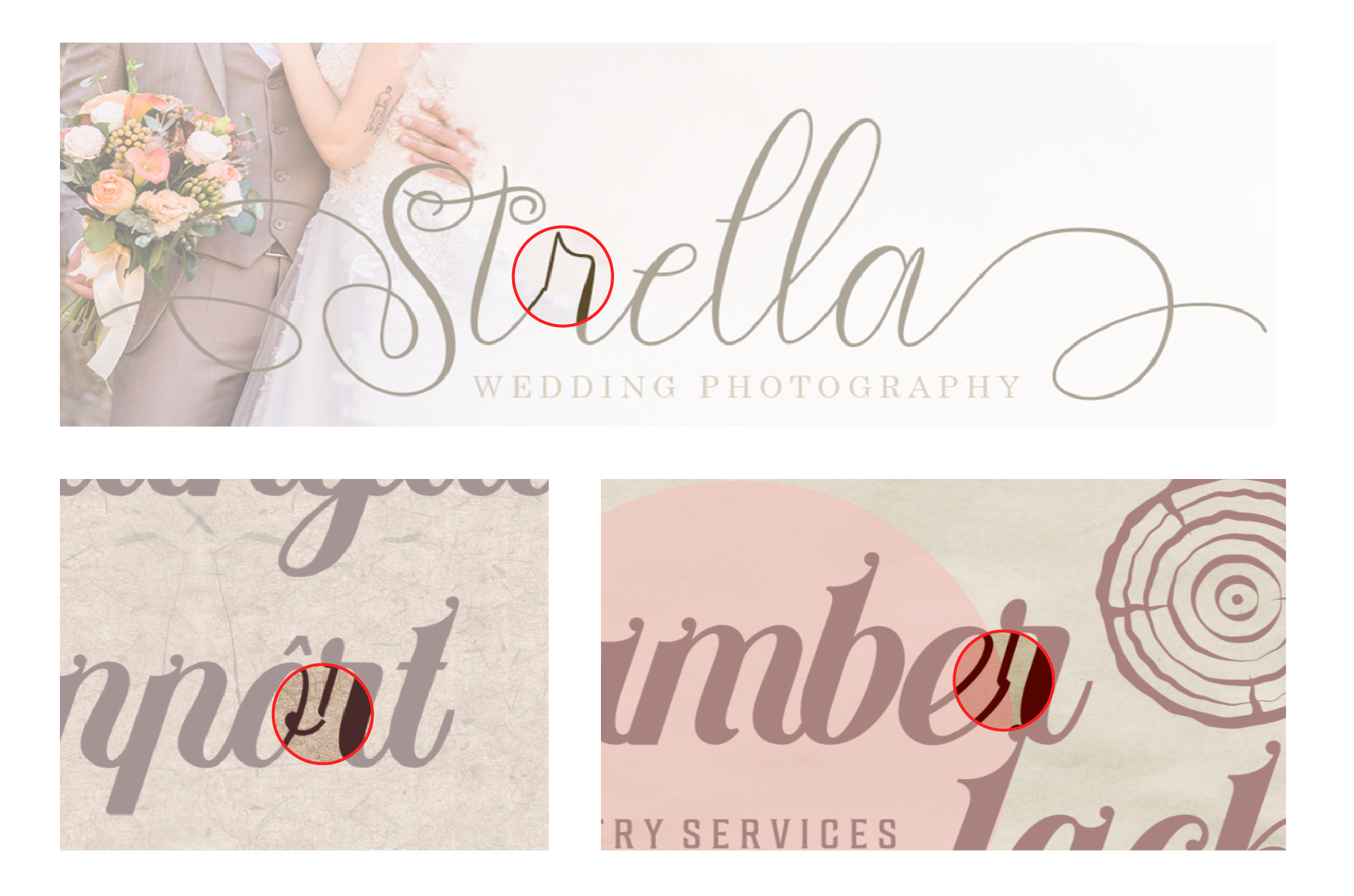 Looped letters not lining up
When you connect a letter to the lowercase l, h, b, or other letters with a loop, you should be making a loop with your pen going from the end of the prior letter through the end of the next stroke. This loop should be consistent throughout, and you shouldn't be able to tell where one letter ends and the next begins.
Some common instances where looped letters don't work.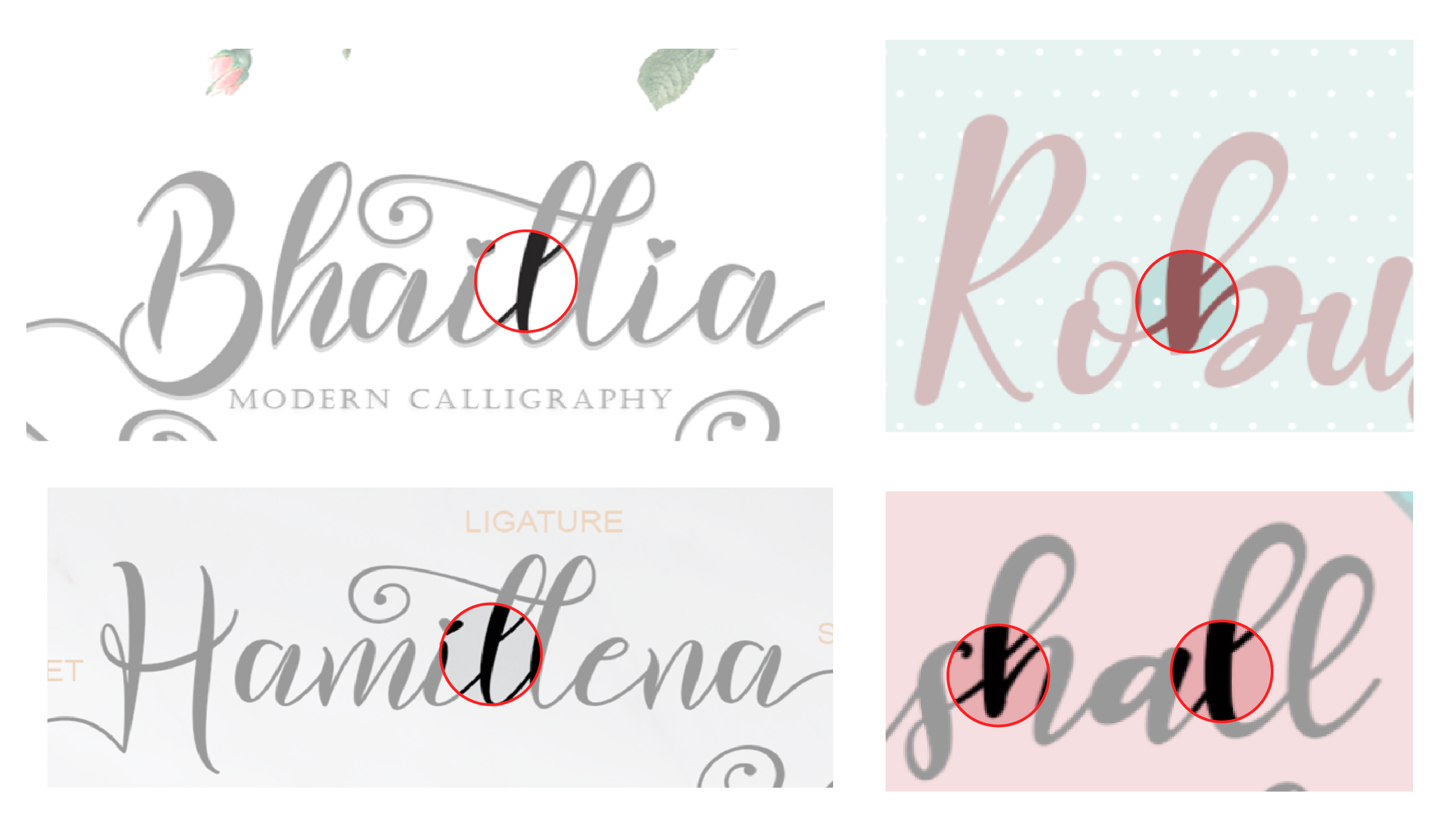 Here's how it should look: The lowercase r and s at the beginning of words
When a word starts with a lowercase s or r (or the lowercase s or r follows a capital letter), it can often look unnatural, depending on how you've designed it to connect with other letters. You should make sure that you have an alternate that is used to help with readability and has a natural looking start to it for situations like this.
Spacing
Spacing is essential to making a compelling script font. Your spacing should be consistent and natural throughout the family (unless of course inconsistent spacing is a key part of the family, and in that case refer to the "Consistent Inconsistencies" section below). In general, when you read a paragraph of text, the most negative (or "white") space should be the "space" character, and the text should not appear chopped up when you squint. It should be easy to read and feel natural. You will definitely need to have kerning in a script font; achieving proper spacing without kerning is almost impossible.
Punctuation
Punctuation should be oriented and spaced correctly. It should be a natural and useful part of the family. We commonly see it placed too high, too low, with too much space around it, or at an angle that is inconsistent with the rest of the family. If you were writing a sentence on paper, and had to place punctuation, where would you put it? You should make sure to do the same in a digital font. You'll possibly even need to kern each punctuation mark to each letter. Seriously!
Swashes
Swashes are awesome. Including them in your family can cause customers to be willing to pay more for the family. However, swashes should not be there just for the sake of having them. You should only add them if it makes sense and they are useful for customers. Do NOT just stick swashes randomly on letters just because you can. Think about drawing a swash with your pen. If you were a calligrapher, where would you put it? Swashes require expertise to do them well, so if you're not sure, don't include them, or take a calligraphy class, a type design workshop, or read some books about script type design. We've included some helpful resources on script type design at the bottom of this article.
These swashes don't work for customers.

Consistency
A typeface is not a collection of beautiful letters, but rather a beautiful collection of letters. This means that all your letters should work together as a group, share common elements and features, and be connected in a way that makes sense.
When script fonts have contrast (where some strokes are thicker than other strokes) this contrast should be consistent. That means that all the thick strokes should be about the same thickness and all the thin strokes should be about the same thinness. Additionally, the thick strokes should all be the same motion (i.e. the downstroke), whereas the thin strokes should also all be the same motion (i.e. the upstroke). Again, think about actual handwriting. For example, when you are drawing the letter c, the thickest part of the letter is going to be when you're pressing down on the pen creating the left side of the curve. Make sure this is the same everywhere.
Another important part of consistency is the shape of your curves and letters. The large loops on your g, y, j, l, and h should all roughly be the same style. The footprint and negative space of your a, e, o, c etc should all be about the same. Each letter should look like it was written with the same marker, brush, or pen. The letters should work together to be a coherent family. All the letters should be about the same slant in order to look consistent.
You can see the angles of the letters are not consistent: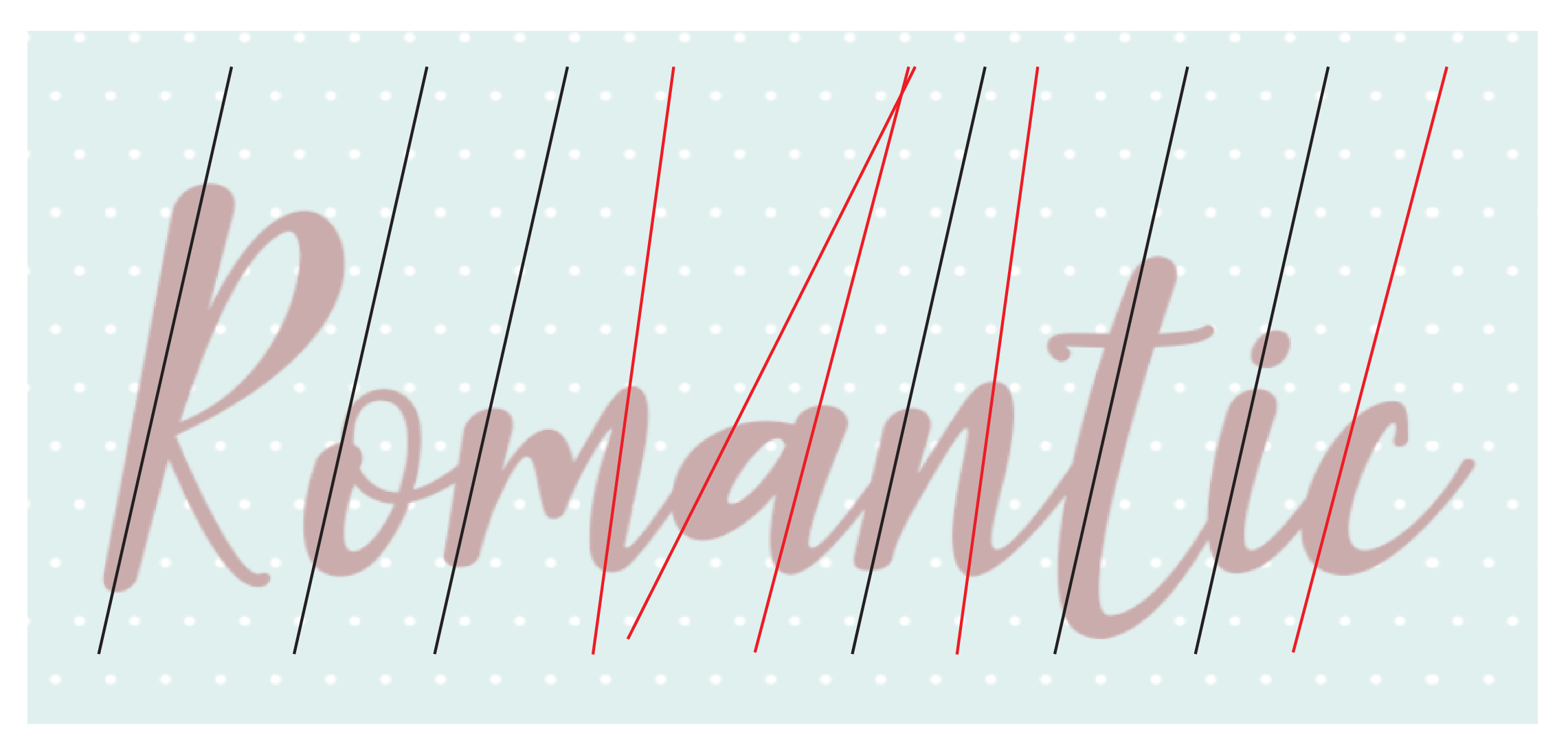 And the lowercase "a" isn't a consistent thickness with the rest of the letters: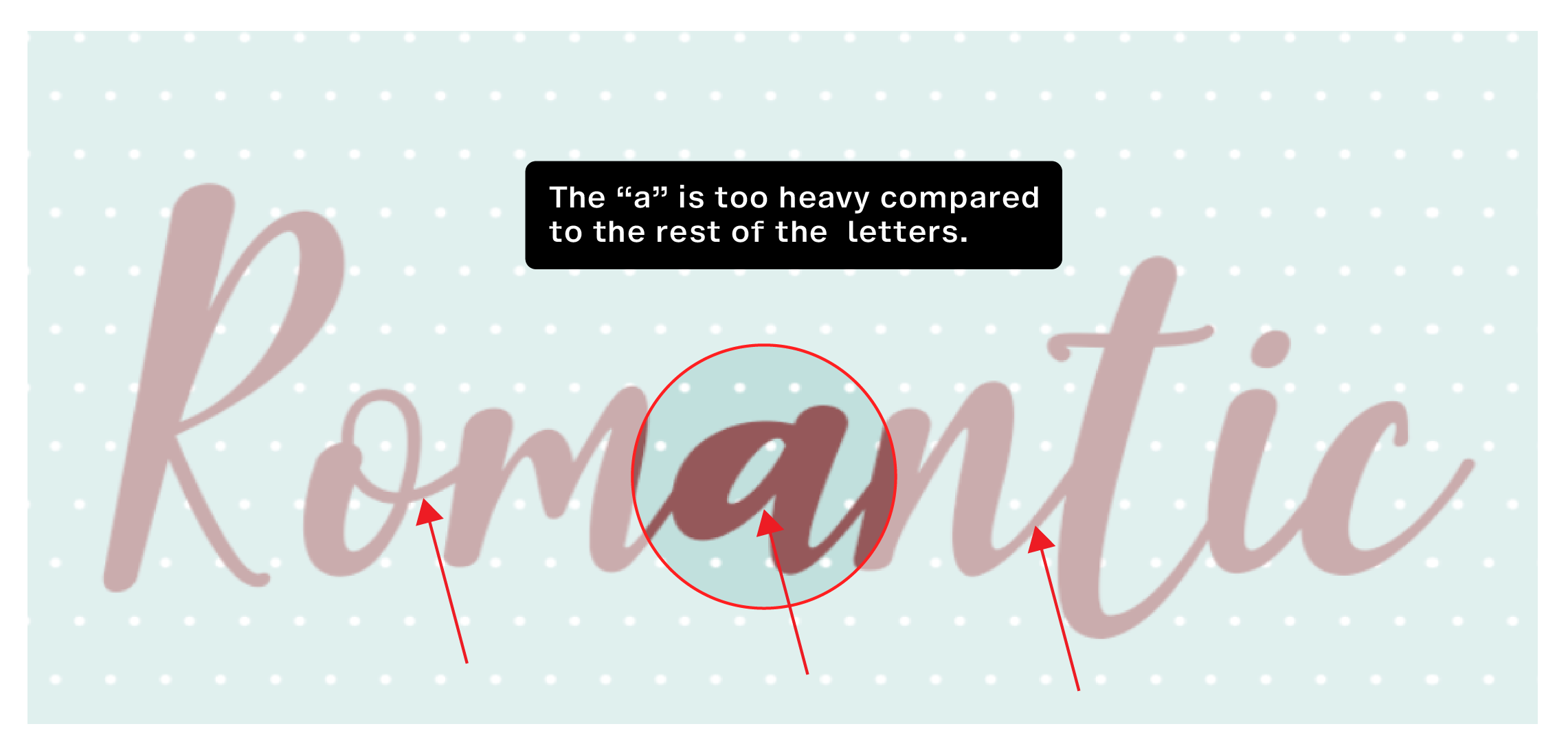 Consistent Inconsistencies
While your font should generally be consistent, we know that many fonts have inconsistencies that make them unique and great. However, you have to know the rules in order to break them! If your font has a particular feature that makes it unique, make sure you incorporate that feature throughout the family in a way that makes sense. For example, your swashes should all have the same treatment and terminating stroke. Or you may want to make some letters wider than others, or have a bouncing baseline to create visual interest, or make some letters have interesting angles. If you do this, take care to make it a feature of the typeface by incorporating it throughout the family in a thoughtful way.
Script Font Design Resources
The following videos, books, and workshops can help you to become a better type designer and refine your lettering skills.
Books
Videos
Articles
In-Person Workshops & Classes (paid)
Digital Courses (paid)