You can view the licenses you've sold on MyFonts by using our Earnings Reports tool in Foundry Platform. It updates hourly!
Filtering
Use the filters to curate a date range for your licenses.

You can view licenses by month, or select a custom date range.

If you have multiple foundries, you can filter to show your earnings for one or more foundries.

Once you've filtered your desired view, you can see the total amount earned for that view at the top of the page.


Downloading
Click the download icon to download a spreadsheet of all licenses for that filtered range. You'll get an email with a link to the download when it's ready.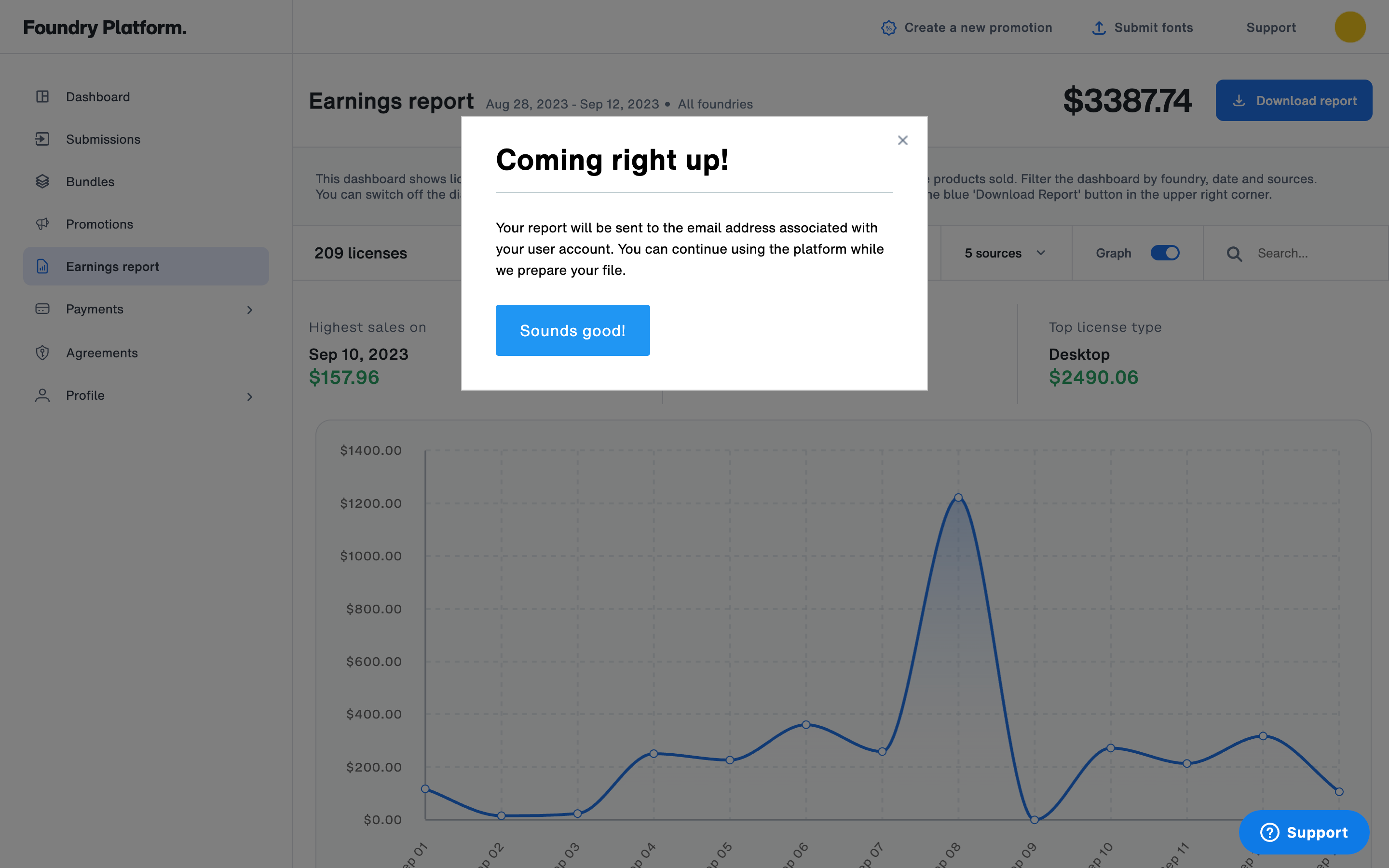 Viewing more details
Click into each row of the dashboard to see more details of each license.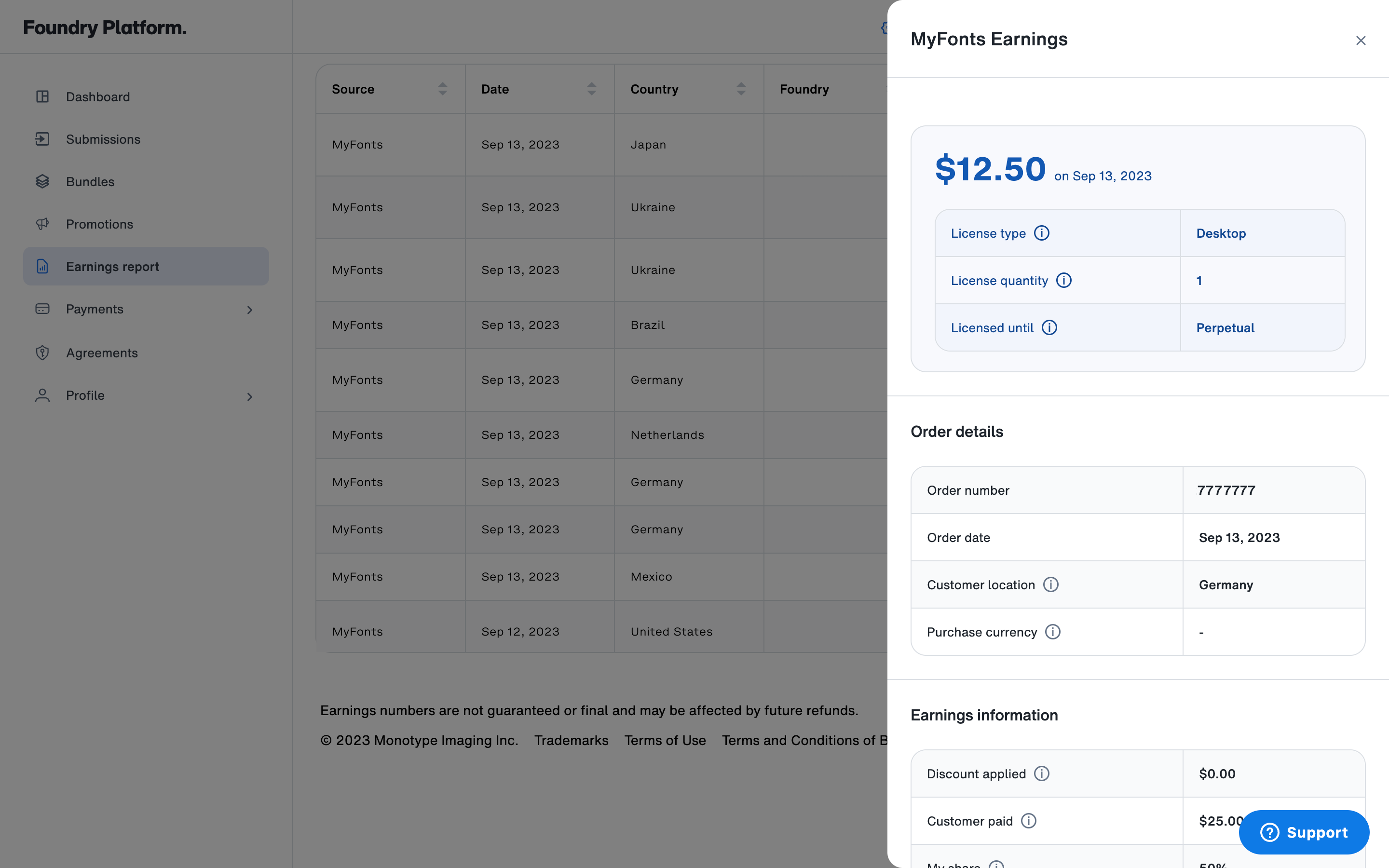 How do I view my earnings for licenses sold on Fonts.com, Fontshop.com, Linotype.com, and Monotype Offline Sales?
Log in to your Foundry Platform account.
Click Earnings Report in the menu.
Filter earnings by date, foundry, and source.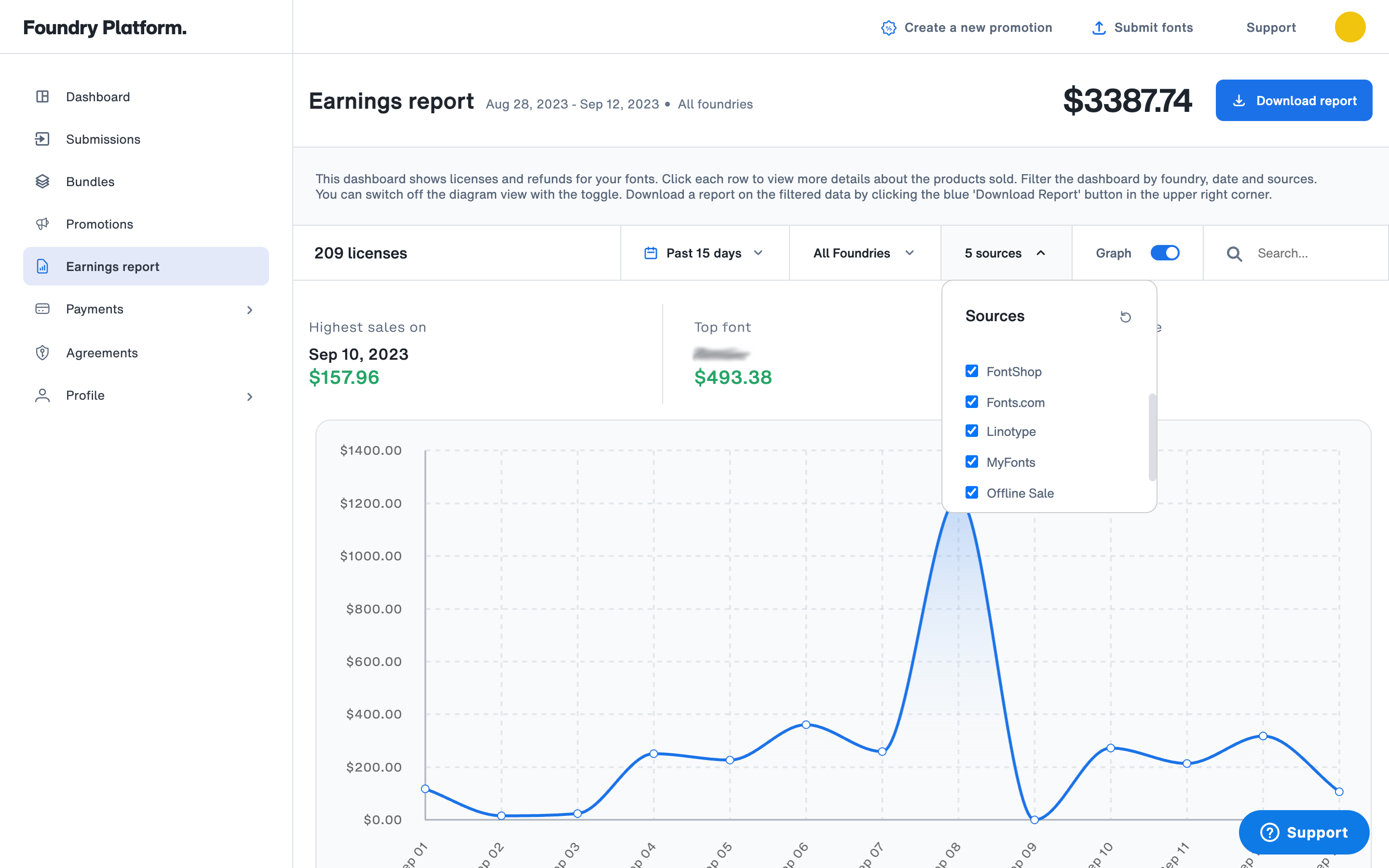 Why are there no customer names or emails in reporting?
Privacy laws vary depending on the physical location/nationality of the consumer and are constantly changing. Font licensing is sold globally, so we must also take a global approach to data privacy.We're choosing to fall on the safe side of our privacy obligations. We want to be good global citizens and not expose Personally identifiable information (PII) and other confidential information unnecessarily.
Our privacy policy states that we can share customer information with third parties to "provide [...] customer service, react to [...] inquiries or solve product issues" for our customers.We provide all customer support for our sites, and if there is a specific font issue, our customer support team will assist the customer and then work with you if needed to resolve the font issue. Read our E-Commerce Customer Support policy about how this works. This way we can ensure a consistent customer support experience and coverage across time zones and languages. Our customer support teams track performance metrics like customer satisfaction (CSAT), net promoter score (NPS), agent response time, and more to ensure we are offering top quality service.
If you want customer information because of a concern related to the customer being under-licensed, we can help! If you see a brand using one of your fonts in the wild, and you don't have a record that they've adequately licensed the font from you or another distributor, feel free to reach out to us with the business name and font in question, and we'll be able to provide information on the customer's coverage from any licenses purchased by us. Similarly, we may reach out to you to inquire about this too. We have a procedure for license history requests.
It's not permitted for foundries to use customer emails for marketing purposes or to follow up about licensing.It is extremely difficult for us to provide the data to foundries while ensuring that customer data is not being used in this way. We have seen an increase in complaints from customers about receiving unsolicited marketing from foundries after purchasing a font on our sites, and we want to make sure we are providing the best possible customer experience by protecting user data.