Monotype Fonts is our font licensing and discovery product for businesses. It includes a font licensing service and platform for font discovery, font management, license management and creative collaboration.
Monotype Fonts includes a feature for customers to import and manage their own fonts purchased outside of Monotype Fonts. This helps customers to manage their font libraries in one place, more easily comply with their font EULAs, and deploy fonts within their organization in a controlled and organized way.

Here's how it works. In Monotype Fonts, a customer with admin privileges uploads a font to their account. The font is only accessible in their own account, and of course the font is not made available to all Monotype Fonts users. Then, they set the access rights for a particular font in their account. Since a user needs to be assigned access to a font in order to download and use the font file, the person who uploaded the font can ensure that only the designers that are meant to be able to use the licensed rights have access to the font. We'll dive into more details about the features below.
Customer's Legal Responsibility
Before using the imported fonts capability within Monotype Fonts, customers need to accept terms and conditions for appropriate use of fonts within the system. The terms of use include the following:
The customer is responsible for compliance with the terms of licenses for any third party font software uploaded into Monotype Fonts.
The customer is responsible for ensuring rights to third party font software include the ability to upload and store the fonts on Monotype Fonts.
The customer is responsible for identifying purchased rights to enable the fonts to be distributed to the customer's end users (please see below for license management capabilities in Monotype Fonts to ensure restricted use within purchased terms).
The customer administrator uploading third party fonts has the authorization to upload the fonts, and is taking actions within specific font license software terms as noted above.
Font Import Features
Upload fonts
Customers have the ability to upload custom, imported font files to supplement the type options already provided in Monotype Fonts, and to enable customers to take advantage of previous font licenses.
Font files are stored in a fully secure, enterprise-grade, Amazon S3-based cloud architecture.
Imported fonts are only available to a specific customer, and to assigned designers as explained in more detail below.
Font imports utility
Note: font files are not modified in the upload process.
Manage licenses & upload EULAs
Monotype Fonts enables detailed license tracking associated with imported fonts, to ensure the fonts are being used according to the terms of original licenses. Customers can upload EULA docs, and specify the number of available seats (or users) for use for a specific font. Font license details can be added for a font family or specific style.
Number of users details

Upload EULAs as attachments


Restrict access
Imported fonts can only be installed on a designer's machine if specifically assigned access. (You can read more about the installation process in the FAQ below). This restriction ensures that fonts will only be downloaded on an as-needed basis and within the restrictions of the original purchase terms. Access is based on designers who already have a seat in Monotype Fonts, also ensuring effective ongoing management of font licenses; if a person is no longer in a customer's Monotype Fonts account they will no longer have access to the font (automated vs manual license tracking).

Access assignments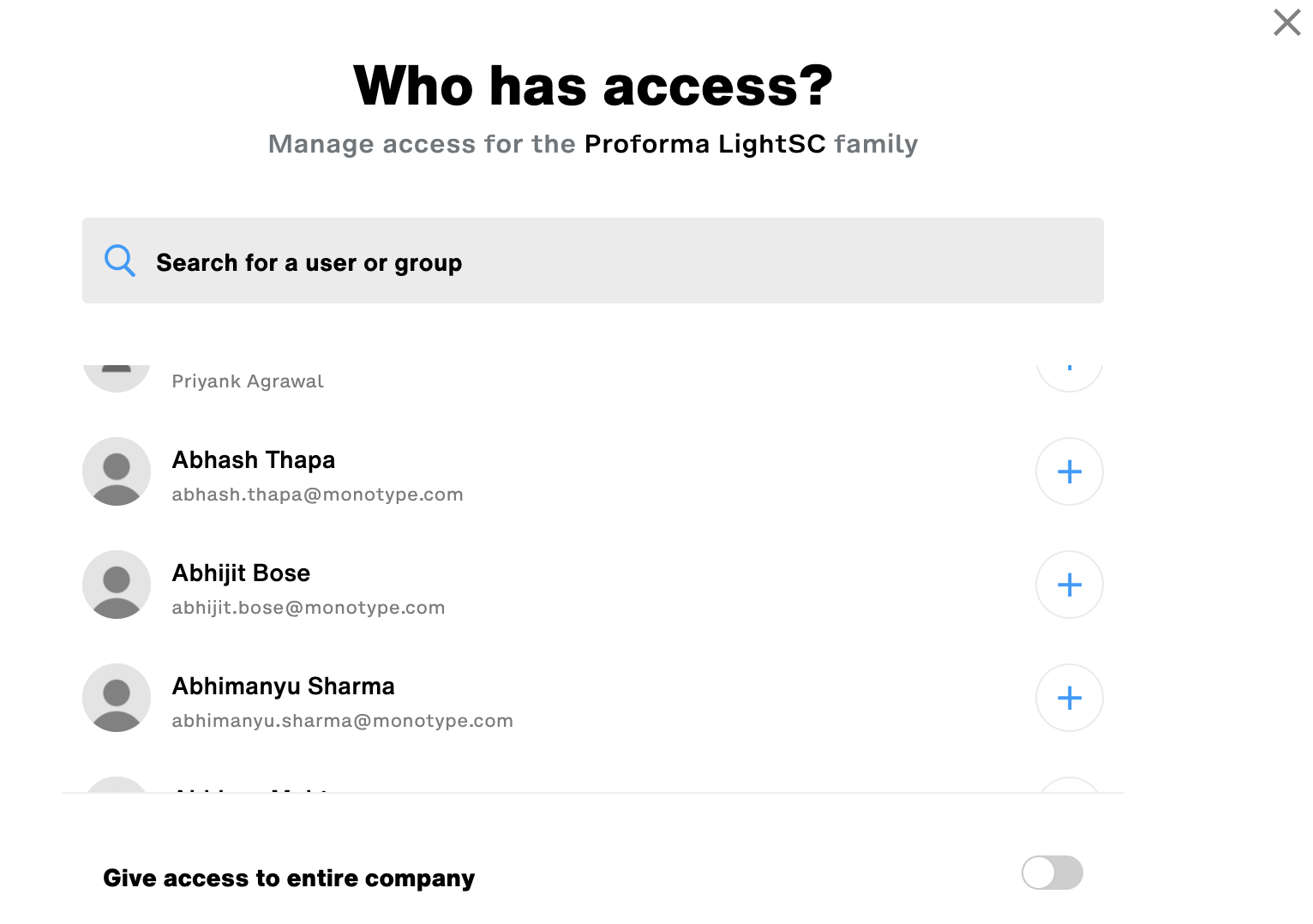 Font access restrictions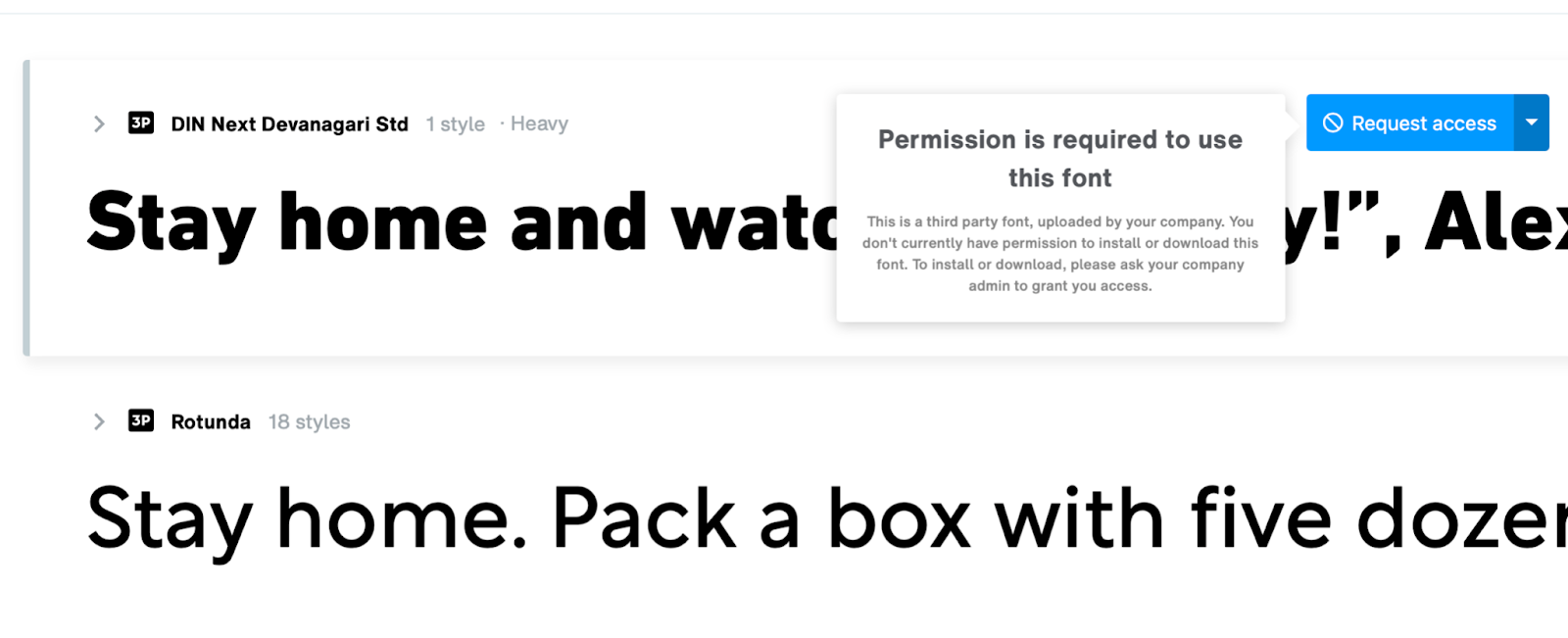 Automatically track seats
As fonts are synced by designers who are given access, Monotype Fonts will automatically record this install activity to enable administrators to easily track font usage against purchased license terms. The imported fonts administration screen will also highlight use overages, including a filter to consolidate reporting quickly for administrators.
Font in-use counts


License over-use reporting and filter

Host web fonts
Monotype Fonts enables web font hosting only if there are purchased web font files. There is no conversion of files into web font formats. Please note that the onsite type tester feature in the discovery workflow utilizes a web font render conversion, only to enable designers to see the font characteristics within Monotype Fonts for determining feasibility for design projects. The type tester is only available within Monotype Fonts discovery and font management tools.

FAQ

How are fonts installed on local machines?
In Monotype Fonts, font files are synced to local machines via the Monotype App, which itself requires a login and integrates user and font access rules as noted above. If a designer has access to an imported font and syncs the font, the font file is stored in a hidden folder inside the temp directory. The font file is available for use in design apps e.g. Adobe Creative Suite, but there is no way for people to to find the font files through this standard sync process. If customers do enable the download of font files directly, an admin-enabled permission setting within Monotype Fonts, this download action is still dependent on assigned access rights for the imported font.
Font sync action with assigned access


What do uploaded fonts look like in Monotype Fonts?
Imported fonts have a specific 3P icon so they are more easily identifiable. Imported fonts are also fully discoverable in search, by font name, any private tags added to the fonts (private tags enable Monotype Fonts customers to add custom descriptions to their fonts, making it easier and more efficient for individuals and teams to find the fonts they need), and standard classifications automatically applied by Monotype Fonts e.g. serif, sans serif, etc. Finally, font characteristics are visible in the Monotype Fonts type tester feature so designers can see what the font looks like in action before syncing or downloading. Together, these discovery features make it more likely fonts will be found by designers in the creative workflow process.
Imported fonts search and discovery